What's the process?
1. SELECT THE PIECES YOU WANT TO ORDER AND PLACE YOUR ORDER THROUGH OUR ONLINE STORE
​
2. DROP YOUR FLOWERS OFF ( Los Angeles area or Bakersfield, CA) OR SHIP YOUR FLOWERS TO US. WE WORK WITH CLIENTS ALL OVER THE UNITED STATES.
​
3. LET US WORK OUR MAGIC
​
4. RECEIVE YOUR NEW BEAUTIFUL KEEPSAKES IN APPROXIMATELY 4-6 MONTHS.
***Please keep in mind to check your messages frequently during this communication to reduce delay of process time for your beautiful flowers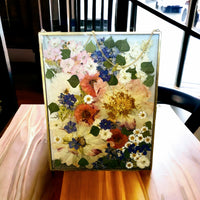 Whether your flowers are from a wedding, memorial service, anniversary, birth of a baby, or just flowers you picked from your garden, pressing and framing them makes a beautiful way to preserve them forever. Our personalized frames make a great gift or a wonderful way to hold onto your most special memories.
Disclaimer
Flowers are composed of organic matter and there is no guarantee of color retention. Florals will naturally change color while drying as well as over time in the frame. For example, white flowers tend to yellow/brown and red flowers tend to darken as they dry. We like to remind our customers – "A raisin will never look like a grape!". Rest assured that we use multiple drying methods, specific to the flower type, to optimize preservation and color retention.
• We are not responsible for lost or damaged flowers delivered in the mail. Some flowers may not make it during shipping. We will work with the best pieces we receive from your bouquet.
• Any extra florals will not be returned unless requested for an extra fee.
• Once your pressed flower frame is completed, we will ship your item in a box indicated as FRAGILE with ample packaging. We are not responsible for any damage during shipping. Please purchase shipping insurance to guarantee refunds on potentially damaged items.
• Due to this being a custom-made piece, we do not accept product returns.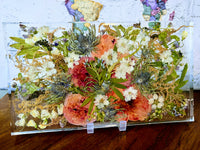 Buyer agreement
By purchasing, our products you are agreeing to and acknowledging the following: you agree that Gifts with Love and Art can not be held responsible for lost, damaged or stolen packages, to or from us, or damaged/undesirable outcomes during the drying and creating process. We will keep in contact with you throughout the process and if the flowers don't arrive in good shape We will let you know and you can decide if you want to proceed with the order.
These are handmade products and therefore will not look as though they have been manufactured by a machine.

- Flowers naturally create air bubbles, and resin also naturally has micro bubbles. These bubbles can be within the resin piece or sometimes feature on the surface of the resin, creating small holes. we work very hard to minimize these but this is not always possible.

- During the drying process, flowers can change color and/or shape. Bruising on flowers can also appear on resin which can occur during postage. Some flowers dry a lot better than others. If your flowers consist of only 1 type of flower and you're concerned about their suitability then please drop us a message to discuss.
Flowers will go through an extensive drying process that will cause them to change/lose some color. They are no longer fresh when dried, this is normal. Fresh red roses will darken up to a dark burgundy, pink roses will turn to a slight purple/grey, etc. White Calla Lilies will turn yellow.

We are not responsible for any damage during shipping. Please purchase shipping insurance to guarantee refunds on potentially damaged items.

Testimonials
Craftsmanship Beyond Compare ⭐⭐⭐⭐⭐

The custom wedding flower preservation glass metal frame I ordered exceeded all my expectations. The craftsmanship is unparalleled, and the attention to detail is astonishing. The flowers look as vibrant and fresh as they did on our wedding day. The metal frame not only adds a modern touch but also protects the delicate arrangement inside. I'm in awe of this keepsake that will be a centerpiece in our home forever.

Reviewed on June 27,2023

Sonia Opr.
Preserving Memories with Elegance ⭐⭐⭐⭐⭐

I was looking for a way to preserve the beauty of my wedding flowers, and this custom glass metal frame truly delivered. The flowers are impeccably arranged and expertly preserved, and the metal frame adds an element of elegance. It's like having a piece of our wedding day frozen in time. I'm so glad I chose this option to remember one of the most special days of my life.

Pamela Schmunk.
Unforgettable Artistry and Quality ⭐⭐⭐⭐⭐

The custom wedding flower preservation glass metal frame I received is a true masterpiece. The artistic arrangement of the flowers showcases the intricate details of each bloom, and the glass metal frame adds a touch of modernity. The quality is outstanding, and I can feel the passion and dedication that went into creating this keepsake. It's a wonderful way to relive the joy and love of our wedding day.

Please note that these reviews are fictional and for illustrative purposes only. They are designed to provide you with ideas for writing your own reviews based on your actual experience with the custom wedding flower preservation glass metal frame.

K. Smith
Love my tiara so much.Thank you.

Delisa L.