id="ProductSection-product-template" data-section-id="product-template" data-section-type="product" data-enable-history-state="true" >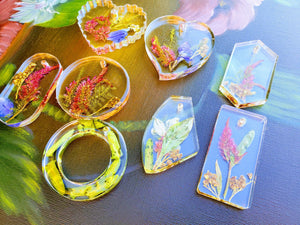 Preserved Wedding flowers petals. Flowers Necklace Pendants. Resin Paperweights keepsake.Memories of anniversary,funeral.Memorial Necklace
Regular price $75.00 Sale
Do not toss your funeral flowers.......Preserve it.
It would be the most unusual, one of a kind gift, for someone special for any special moment in your life such as a wedding, birthday,funeral...any occasion,reason or season.
This resin pendants are looking as a glass is filled with emotions and feelings. It contains an emotional connection to that moment in time, to that last goodbye, to that moment you want to last forever.....
This pendant is made to order. Send me your special flowers and I will make a pendant for you! I use resin to make these particular beads, and they come out beautifully! Flowers pieces look like they are floating in the beads. Please mail live flowers wrapped in paper towel, in an OPEN plastic bag, inside an envelope (one that is not easily crushed).
This listing is for one resin petals, flowers pendant or earrings.
It comes with a gift bag.
Processing time takes up to 12 weeks once the flowers or just petals are received.
If you need your order rushed, please choose "rush order" for a fee and I can have it done in 1-2 weeks.
Flowers can be send previously dried or fresh.If they arrive fresh allow 12 weeks for us to preserve them for use in this keepsake.Flowers that are previously dried or fresh should be wrapped loosely in a dry paper towel,placed inside of an unsealed plastic baggie or brown paper bag.
Do not seal the bag as this can cause mold and faster deterioration.Please, do not hesitate to contact me with any questions!
Message me to get the mailing information needed for sending your flowers.
If you send me your live flowers, please remember that they may wilt/discolor. I can color enhance your flowers if you'd like, just let me know.
Please remember that if you send live flowers, they will darken once I dry them .Red roses will turn nearly black; however, I can spray them if you'd like.
Handmade resin creations are a labor intensive process to get the flower into position. Due to the nature of the resin making process tiny air bubbles usually occur.
Each item in my shop is made by hand and not a machine so tiny bubbles, bumps little gaps and slight imperfections are part of the unique characteristics of the resin creations!
Cancellation and Returns on this listing will incur a 25% restocking fee.
****I also create custom cremation paperweight keepsakes.
You make the memories...we preserve them.
We look forward to working with you.
Thank you.