id="ProductSection-product-template" data-section-id="product-template" data-section-type="product" data-enable-history-state="true" >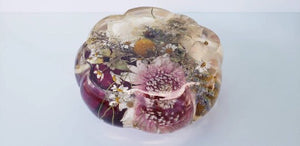 Preserved Wedding Flowers Bouquet in Large Flower Shaped Resin Paperweight Keepsake.Preserving Bridal Bouquet.Resin Paperweight Keepsake,
Regular price $450.00 Sale
Do not toss your Bridal Bouquet.......Preserve it.
After all the time and expense in selecting the perfect flowers for your wedding don't toss them, preserve them!
We will professionally preserve your bridal bouquet and other wedding memorabilia allowing those memories to be cherished for a lifetime.
Size: 5,5 inc. (diameter),2 1/4 inc. high
This is a flower rose shaped keepsake.
Processing time takes up to 2-6 weeks once the flowers are received.
Flowers can be send previously dried or fresh.If they arrive fresh allow 1-2 weeks for us to preserve them for use in this keepsake.
There are several ways to send the flowers safe.
The first one is to use some freezer packs.
For best results use Priority Overnight Delivery through your local post office or Fed Ex. The quicker we get the flowers the better end result. Keep your flowers hydrated and in the refrigerator until shipment, DO NOT FREEZE. Your local Fed Ex will package your flowers for you for a fee or I may provide you with an instructions,please, just let me know.
You may also specify personalisation if flowers are provided e.g for the arrangement of flowers. If you leave this blank then I shall assume that you're happy for me to make this decision myself.
Flowers that are previously dried or fresh should be wrapped loosely in a dry paper towel,placed inside of an unsealed plastic baggie or brown paper bag.
Do not seal the bag as this can cause mold and faster deterioration.Also you may immerse them in silica gel crystals, available at craft shops for $5-$10/lb, and seal them in an airtight container.
Please, do not hesitate to contact me with any questions!
Message me to get the mailing information needed for sending your flowers.
When you place your order, you are agreeing to the understanding that some flowers change color as they dry, they may darken or change tone and some flowers just do not dry well. If you'd like to talk any specific flowers before you order then please send me a message. Some flowers may also change color slightly within the resin over time.
BUYER AGREEMENT:
----------------------------
By purchasing, you agree that I can not be held responsible for lost, damaged or stolen packages, to or from me, or damaged/undesirable outcomes during the drying and creating process. I will keep in contact with you throughout the process and if the flowers don;t arrive in good shape I will let you know and you can decide if you want to proceed with the order.
Please be aware flowers dry differently depending on the type, timing, etc. Colors may shift and blooms may shrink. I do my VERY BEST to make sure your piece is as lovely as possible, but there are some variables through the process that are out of my control. I have never had a problem, but need to make sure we understand each other.
All of my pieces are handmade, by me and so they will not look like they have been manufactured by machine. There will be small bubbles – and these can cause occasionally teeny pits on the side surfaces. Every piece I make is one of a kind and so I consider small imperfections to be part of the charm of a handmade memory piece.
Your order serves as your consent to allow Gifts with Love and Art designers to create your floral paperweight keepsakes using their best judgment and discretion within your selection and any written instructions provided by you. Please make sure to thoroughly read this page before placing your order
Handmade resin creations are a labor intensive process to get the flower into position. Due to the nature of the resin making process tiny air bubbles usually occur.
Each item in my shop is made by hand and not a machine so tiny bubbles, bumps little gaps and slight imperfections are part of the unique characteristics of the resin creations!
The back or bottom side may be slightly bumpy,uneven due to a natural heating process in a resin and drying.
The front and back sides are more glossy,clear than sides around ( some kind of frosty effect).
Cancellation and Returns on this listing will incur a 30% restocking fees in the first 8 hours after your purchase this listing.No returns and cancellations after that.
Eventually the white roses in your bouquet, corsage or floral arrangement will begin to turn brown, a natural occurrence as the blossom starts to fade. While this happens to all roses, the browning is more evident in white roses, as there is no color to conceal the evidence of the transformation. White flowers tend to yellow as they dry, roses are no exception.Another thing to remember is to dry them before they get too old. The longer the flower has been picked the more chance there is for it to turn brown.The color of your dried flowers determine the color of your finished keepsake. The chemical of the resin can make some of your petals look translucent or even darker.
Some flowers change color as they dry, they may darken or change tone and some flowers just do not dry well. Some light colored flowers keep their color well but some not. Flowers tend to yellow and brown as they dry, roses are no exception.
Another thing to remember is the longer the flower has been picked the more chance there is for it to turn brown.
And sometimes there is a chemical reaction in resin that affects the color of the flowers.
You never know until the product is done.
It is no a toy for kids.
DISCLOSURE:
By purchasing my products you are agreeing to and acknowledging the following:
- These are handmade products and therefore will not look as though they have been manufactured by a machine.
- Flowers naturally create air bubbles, and resin also naturally has micro bubbles. These bubbles can be within the resin piece or sometimes feature on the surface of the resin, creating small holes. I work very hard to minimise these but this is not always possible.
- During the drying process, flowers can change colour and/or shape. Bruising on flowers can also appear on resin which can occur during postage. Some flowers dry a lot better than others. If your flowers consist of only 1 type of flower and you're concerned about their suitability then please drop me a message to discuss.
Remember,Store your resin keepsake out of direct sunlight. Prolonged exposure to direct sunlight can cause the resin to discolor and soften.
Chemicals.
Avoid exposing your keepsake to harsh chemicals and cleaning products. This includes perfume, hair spray, cleaning solutions, nail polish remover, antibacterial hand sanitizer etc. Solvents will react with the epoxy and cause it to become scaly, yellow, chip or break down completely.
Use a warm water to clean it.
Cancellation and Returns on the custom orders listings will incur a 30% restocking fee.
For all cancellation requests on orders that have not been shipped yet, there is a $5.00 restocking fee to cover paypal and etsy listing and cancellation fee's, as well as any inconvenience.
Returns & exchanges
Before making a purchase, please make sure to double check the measurements and description. I am always flexible in making sure that you are happy with your purchase, but please make sure you have read the description carefully.
If a return is required, it must be done within seven (7) days of receipt and in the original condition and packaging. Must be in "as shipped" unused/unworn condition. The buyer will be responsible for shipping the item back to the Store, and for the cost of shipping any exchange items. Seller reserves right to deduct original shipping cost, depending on reason for return.
Cancellation and Returns on custom made orders-listings will incur a 30% restocking fee in first 8 hours after you order it.After that no returns and cancellations on those listings because it is a custom order.
****I also create custom cremation paperweight keepsakes.
You make the memories...we preserve them.
We look forward to working with you.
Thank you.