id="ProductSection-product-template" data-section-id="product-template" data-section-type="product" data-enable-history-state="true" >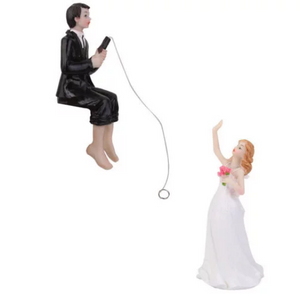 Personalized Wedding Cake Topper Figurine Bride Groom Decorations Romantic Supplies.Wedding Accessories.Flowers and kiss.Personalized hair.
Regular price $45.00 Sale
This listing is for one Bride and Groom Cake Topper.
Modern Bride and Groom Wedding Cake Topper - Mr & Mrs Cake Topper

Perfect for the modern couple, this sweet cake topper couple is trend savvy as they pose with a marquee style ampersand. The groom looks dapper in an all black tux and the bride is oh-so-elegant in her sleek, tailored dress. Place this cake topper figurine on top of your cake for a perfect representation of you and your beau. Hand sculpted, hand painted porcelain.

The figurine measures just over 12 cm high., 5 1/2 inc. high 

See our store for other cake toppers.

HAIR COLOR PERSONALIZATION/

If you would like to customize a hair color,please let me know.
Please write me a note with the purchase, select the hair color for your bride and groom as these cake toppers are all individually personalized to have the hair color of your choice! Please allow 1-5 business days for handling time as we do personally hand paint each cake topper's hair.
If I do not receive a note with your selected colors of bride and a groom hair,I will ship the topper as is on the picture.

The Details:
Select color of hair for bride and groom. These are general hair colors and may not be an exact match to hair colors

Painted Porcelain Cake Topper
**NOTE: the sample cake topper shown the bride has golden blonde hair and the groom has dark brown hair
Flowers and a cake on the picture are not included in this listing.